23 July 2004
Random thoughts...

The past few nights, I had so many things in mind that I wanted to write/blog about. Every time I'd lie down to sleep, these ideas start to creep into my mind and I'd feel so excited I couldn't wait for morning to come. But, now that I'm sitting in front of this Net Café's PC, I can't seem to decide what to write about. No, no, make that I can't think of a really good thing to write! It's so irritating and really frustrating! Now, I completely understand what Kencho Suematsu meant when he said, "…she wrote down immediately, in order not to allow the inspiration of the moment to be lost," about Lady Murasaki (the author of Genji Monogatari, the world's very first novel, which I'm reading with great enjoyment and interest right now). Hay!

Thinking… Thinking… Thinking… :)


Jeepney rides...

Okay, what comes to mind right now is something that I see or observe daily (ever since I came to Manila), i.e. some of the people I ride with in jeepneys. It always bothers me how some people who take the jeepney have a problem with passing other people's fare to the driver. You'll need to make your voice really loud just so they'll look at you and, most of the times, they'd totally ignore you and refuse to take the money from your outstretched hand. They just look past you and play deaf and blind. At times, it really takes all my courage to stop myself from throwing the money, along with whatever I have in my hands, to this kind of people!

What if they were the ones sitting farthest from the driver? Wouldn't they eventually pass their fare to other people? Where has cooperation gone? It's really crazy!

But, it's surprising how many people are like this. And, I find this really sad. I mean, this is but a small help one can readily extend to a fellow human being. It's not like it would totally exhaust you or anything. It's just passing something from another person to another. It's not like what you're asked to pass weighs a ton or something. It is no big deal, right? Now, why is it so hard for some people to do others such a little favor? I don't think I will ever understand this!

And, my God, don't get me started with people who seem to have never heard of "thank you" or "salamat"! Tsk, tsk, tsk… :(




***********************




Ranao Royalty in Reality...

I really don't know where some people (here in the Philippines) get the idea that almost all, if not all, Muslim Filipinos have royal blood. I have been asked the question "Prinsesa ka ba?" (Are you a princess?) a gazillion times! Most of the time, I'd dismiss the question with a joke. Sometimes, I wouldn't know what to say.

Yes, there really are princes/princesses in our place, but they are not anything like the idea that we have of princes/princesses (in history books or in fairy tales). The 'Meranao Royalty' has become a joke, if you ask me. I mean, here's the picture, every single municipality in Lanao del Sur has its own royal family. Some even have numerous since any respectable person can claim to be royalty in a single barangay. People have created all sorts of titles just to accomodate all these social climbers (I used this not to look down on these people but due to a lack of a better term). You'd see all sorts of streamers about this person's and that's enthronement. It's very interesting, really, but sometimes it can be irritating! Royal titles have (sadly) become mere names, nowadays.

But, there are, of course, families who have 'real royal blood' running through their veins. These families, even if they're no longer in the limelight or however you may term it, are still very much respected. These families are, as they'd say, legal claimants of the Royal Houses of Ranao (Lanao). They are descendants of great, powerful sultans. Members of these families can rightfully become sultans and bai a labis not only in one municipality, but two, three, four or even more. These people, more often than not, do not so much concern themselves with enthronements or whatever because their being royal is in their blood and family names. Some of these people live middle class lives and not the rich lives you'd imagine royal families would live. Members of these families live simple lives, nowadays. Some don't have much wealth anymore. If you were an outsider, you would only find out that some of these people are of royal lineage when you get to meet their relatives and see how they are treated. No, people do not bow to them or anything. They do not extend their hands to be kissed by the "subordinates". But, they are treated with more tact. If you were a keen observer, you'll really notice the difference. And, no person, who comes from these families' "hometowns", in his right mind, would dare insult them or dream of doing such thing.

Just some weeks ago, my niece was asked the very question "Prinsesa ka ba?" and, shy person that she is, she replied with an awkward "yes". Her friend exclaimed, "Wow, really?! So, may binabayaran ba kayong mga tao para paypayan ka tuwing nagsta-study ka?" (So, there are people hired to fan you when you study your lessons?)

My niece was taken aback by this and she said, "Of course not! OA naman 'yun!" (Of course not! That's too much!)

When she related this to me I told her that the next time somebody asked her that, just say, "Nge! Ganyan ba kami ka-backward?! Why on earth would I need to hire somebody to fan me when there's air con naman?! Du-uh!!!" (Is that how backward you think our lifestyle is?! Why...)

People, sometimes... haaayy! :)




17 July 2004
BabyPink's Avatar...

After reading Balbonics' and Dominattyrix's posts on the cute avatar/icons that anyone can create at this site, I also thought of creating MY avatar/icon. And, here is what I came up with.




My friend (JanJan) and I both think this is how I look like. Okay, okay... I look like a happy cancer patient, but I think people who really know me and who've seen me will agree that I look like the icon. After all, I hardly ever go out without my veil. And, of course, you can NOT not notice how my icon self is wearing a pink shirt/sweater and a pink scarf. Oh, and the background (which is partly hidden) is the gate of the Sensoji (Asakusa Kannon Temple) in Tokyo, where I actually posed in and had my photo taken almost four years ago. :)

And, who's that little cute fellow in my hands? That's Shan Cai, my aunt's cute spoiled brat of a cat! Here's another look at her. :)



This one doesn't know she's a cat! Tihihihi! :)



14 July 2004
My New Baby...

I finally decided to change my template. At first, I had such a hard time imagining changing my template because my older template was a product of sleepless nights, sweat, and tears. Yes, tears! I started blogging with zero knowledge of html and those other things (that I still don't know a thing about). But, with trial and error combined with all the patience I could muster, I was able to make a quite decent looking blog. Of course, I was so happy and so proud of it. It was like my "baby" or something. Y'know, like when people have projects and they call them their babies. I felt that way.

But last night, I went to the Net Cafe I always went to and found out that they've switched from Internet Explorer to Mozilla Firefox. I checked my blog, as usual, and found that it looked weird in Firefox. I know it looked weird in Apple Macs, too, because I once used a Mac at the UP Computer Center. I don't really know why. My tagboard isn't where it's supposed to be, etc. I didn't like that. I wanted my blog to , well, look the same no matter what browser (or PC at that) I use. So, finally, with tears welling up in my eyes, I said goodbye to my "baby".

I checked the "ready-made" templates that good ol' Blogger offers and saw that there were so many available designs. Why, when I started there were only about five or six (very plain and simple) designs! And, imagine my happiness when my eyes fell on Ms. Moto's design! I'd say, it's SOOO me! It's so pink that I really felt it was made especially for me. Suddenly, I forgot half of my sadness. I knew I'd found the perfect template for me (while I still can't design my own)!

Of course, I still had to spend one whole night for this "new look" because of the freakin' add-ons! And, I still can't get my haloscan comment board back! I'll be working on that more later.:) Oh, but I activated my Blogger comment board (Oceanic Views). If you want to comment, please do so. And, if you're a non-Blogger (read: user of other blog services other than Blogger/Blogspot), like my friend Balbonics said, please be a friend and identify yourself.

So, there you have it... MY NEW BABY! The Ocean of My Being with a new look.:) Nothing special really, just wanted to blog about it. Hehehe:)




12 July 2004
Scenes from an Ordinary Day...

It's amazing and sometimes funny how life teaches us new lessons even in the most ordinary of days. The most usual scenes of everyday life would sometimes make us learn a thing or two on how to live. Last Tuesday, I met with a friend at Greenbelt. Two scenes from that day will forever remain in my memory because they made me think and make a decision about how I want to be as a person and how I want to live.


At the MRT…

The Quezon Avenue MRT Station was not as swarmed as I expected it to be when I got there. As soon as I got my ticket, I joined the army of people rushing to the platform to get on the train that just came to a stop. As I positioned myself on the yellow arrow markers where the doors opened, I couldn't help but notice an oldish (about 58 to 60-ish) lady, first because she was dressed in pink and then I couldn't help but admire how strong she still was. I mean, she ran with the rest of the crowd, her crown of pure white hair making her stand out. And then, I noticed that she looked familiar or she reminded me of someone I knew. And it dawned on me, she looked like Mamoosh (my Tita Pie's mom).

As soon as we got inside the train, people scrambled around to get seats. It was good that there weren't many people already in the train. Most of us got seats. And then, I noticed, at the far side just in front of the door, the "pink lady" was standing clutching her bag in one hand and the steel bar in the other. All around her, younger people were sitting comfortably. I looked at her and I wanted so much to offer my seat. We even had eye-to-eye contact for a few seconds, and just as Mamoosh would do, she smiled at me. I looked down thinking that if I gave her my seat, I'd have to cross over to where she was, which was a little bit far. What if as soon as I stood up, somebody took my seat? I debated with myself about what to do and I looked at her again. She was looking out the window deep in thought, it seemed. She looked exhausted. That very scene of an oldish woman standing up while we, younger people, sat comfortably around her really bothered me. My conscience wouldn't keep me still and made me think, what if it was actually Mamoosh or worse what if it was my own Mommy. What if Mamoosh and/or Mommy got on the MRT dead tired and just like this "pink lady", they'd have to stand because nobody would offer them seats? Thinking of that, I couldn't stop my tears from falling. It was a good thing I had my veil so I could cover my face a bit and wipe my tears immediately, but the tears wouldn't stop.

By the time I decided to really offer my seat, we were on our second stop and the girl seated next to where the "pink lady" was standing stood up to go. The "pink lady" sat on the vacated seat with a huge smile on her face and a sigh of relief. I, on the other hand, was kicking myself for not deciding soon enough to offer my seat. Why couldn't I have decided sooner? The "pink lady's" smile made me feel worse.

I decided then and there that the next time I'll be in the same situation, there won't be any debate within, there won't be any hesitation. I will do what I have to do as soon as opportunity to do it comes. In doing so, I will think of Mommy or Mamoosh being offered a seat or some help by a stranger. I will be so thankful to that stranger for being a good person.


At the Ladies Room…

Now, this one is quite funny. After downing several glasses of iced tea, my friend and I had to go to the Ladies Room. As soon as we got to the Ladies Room, we came face to face with a girl (in office uniform) talking to another girl in one of the cubicles. They were obviously arguing. My friend and I did what we came for and checked ourselves in the mirror. The whole time, we couldn't help but listen to the very "interesting" discourse.

Here's how it went...

Girl 1: Why do you have to take so much? Couldn't you just buy your own or something?
Girl 2: What?! Eh, it's free nga eh. It's for everybody.
Girl 1: That's the point. It's for everybody so it's not for you lang, 'di ba? O, if you were Ayala, would you like it if somebody took all the tissue from your CR? You're Christian pa naman. (While saying this, she shot my friend and me a shy glance. I don't know why, maybe because my friend and I were both 'veiled'.)
Girl 2: Ano?! (What?!) Are you telling me I'm doing something immoral?!
Girl 1: Yes, that's stealing.

At this moment, three more confused people came and gave us 'what's-happening-here' kind of looks. I could just shrug. My friend was taking such a long time "retouching".

Girl 2 (now out of the cubicle): Hay, ewan ko sa'yo! Ang dami mong issues! (I don't know! You have lots of issues!)
Girl 1: Hindi ako ang maraming issues. (I'm not the one with lots of issues.)
Girl 2: Hello?! Tissue lang 'yun… (It's only tissue…)
Girl 1: No, that's stealing. There is something wrong with your Christianity!
Girl 2: Baka ikaw… (Maybe, you're the one…)
Girl 1: Oh yeah?! I'm not the one going out with an attached man!
Girl 2: Ah, so 'yan pala ang pinupunto mo. Lumabas din! (So, that's where you were driving at!)
Girl 1: Yeah!
Girl 2: We're not doing anything wrong, okay? We just go out and talk as friends. There's nothing immoral in that!
Girl 1: No, you're immoral!
Girl 2: Oh my God! You're sick! Magpatingin ka sa psychiatrist! (Go see a psychiatrist!)
Girl 1: Ikaw ang magpatingin! (You should go see one!)
Girl 2: I didn't do anything wrong or immoral. Look at you, you don't have friends.

By this time, I couldn't take it anymore so I blurted out loudly, "Oh my God, I cannot believe I am hearing this!" The woman standing next to me nodded. I thought that would actually make them stop. But, no! They continued to argue and go more and more personal. I heaved a sigh of relief when my friend was finally done. We went out laughing and the two weird girls still at who, between them, was really immoral and who should be seeking professional help. Honestly, I think they both need help… fast!

While listening to the two girls arguing, I came to realize that in this life no one has the right to judge another person, especially another person's faith. When Girl 1 said, "There's something wrong with your Christianity," I just couldn't help but laugh (and I did laugh with them glaring at me). I found that funny because the conversation they were having was really weird and Girl 1's bringing up Girl 2's Christianity was just too much and misplaced. And, that was when Girl 2 really exploded.

If I were in that situation and someone told me something was wrong with my being a Muslim or my Islamic view, no, I wouldn't explode like Girl 2. I would approach the person and speak really close to his/her face and very calmly say, "Prove to me that there's nothing wrong with yours! After you've done that, then tell me this again. But, right now, let me ask you this. Who are you to say there is something wrong with my beliefs?!"

We, people, are all very good at judging and questioning other people, but honestly how often do we really judge and question our own selves? I don't think we do that a lot. Hearing those girls made me resolve that it would be better to stop and check myself first before I go on to notice other people. That way, I'll be in a better state. I'll be at peace with myself and with others.

Assalaamu alaikum. (Peace be with you.)




09 July 2004
YOU...

For no other reason except that I think YOU definitely are THE BEST in the world, I love you with all my heart and soul (and hypothalamus!).

For letting me love YOU, I feel that I am the HAPPIEST person alive.

For just being there, YOU make me absolutely the LUCKIEST girl the whole world has ever seen/known.

This is how much YOU mean to me.

LOVE AKEN SEKA, sobra!!! Mwah! :)



***************



Here's the perfect song for YOU...


When I See You Smile

Sometimes, I wonder if I'd ever make it through,
Through this world without having you,
I just wouldn't have a clue
'Cause sometimes it seems
Like this world's closing in on me
And there's no way of breaking free
And then I see you reach for me

Sometimes I wanna give up,
Wanna give in, I wanna quit the fight
And then I see you, baby,
And everything's alright,
Everything's alright...

When I see you smile,
I can face the world,
Oh, you know, I can do anything
When I see you smile,
I see a ray of light
Oh, I see it shining right through the rain
When I see you smile,
Baby, when I see you smile at me.
Oh yeah...

Baby, there's nothing in this world that could ever do
What the touch of your hand can do,
It's like nothing that I ever knew
Hey, and when the rain is falling
I don't feel it 'cause you're here with me now
I wanna ask you, baby,
It's all I¹ll ever need, all I'll ever need

When I see you smile,
I can face the world,
Oh, you know, I can do anything
When I see you smile,
I see a ray of light
Oh, I see it shining right through the rain
When I see you smile,
Baby, when I see you smile at me.

Sometimes I wanna give up,
I wanna give in, I wanna quit the fight
Then one look at you, baby,
And everything's alright,
Hey, everything's alright
It's alright

When I see you smile,
I can face the world,
Oh, you know I can do anything
When I see you smile,
I see a ray of light
Oh, I see it shining right through the rain
Yeah...

When I see you smile,
Yeah, I can face the world,
Oh, you know I can do anything now
When I see you smile,
Oh yeah
Baby, when I see you smile,
Smile at me...


1989 Bad English (D. Warren)




04 July 2004
Some pics...

Here are some pictures of things I love about home. Home, truly, is where the heart is. :)

Goby, the "boy of my life"... my handsome nephew! (We call each other LoveLove.)


Isn't he adorable?
LoveLove...
My baby, Fai, in his favorite spot...
Tired...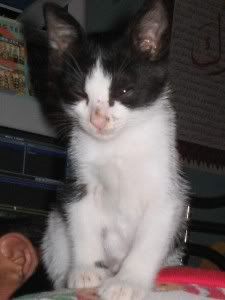 Sleepy... sleepy...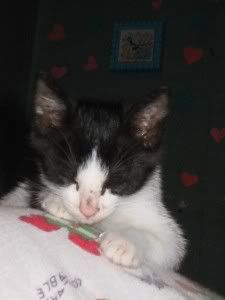 ...and asleep!!!
Our bigger babies, Fai Lan (Dugong) and Phoebe Buffay...
The Gray Sisters...
Phoebe Buffay, all pretty!
My favorite tree in the whole world...
Aaah, MSU!!! :)
01 July 2004
What a Tuesday!

I lost my cellular phone the other night. It took me some time to see the brighter side of this. Hmm, oh well…

Let me start by talking about that day (Tuesday). It was a good day and I was really excited because I was to catch "Happy Together" at the UP Film Center. I mean, after all those years of waiting for a chance to see the movie and looking for a copy of it in vain, I was pretty much psyched up about the thought of finally seeing it. And, especially after my very good friend, Bok, lent me a copy of it, but every stupid PC at the dorm just wouldn't read the damned DVD. I was just so happy when she informed me that it was going to be shown at the FC. So naturally, I was bubbling with excitement the whole day. And, after waiting for what seemed like centuries, it was finally six o'clock and I was standing in line.

The movie was absolutely great. I've never seen anything as brave and as "gay" as that movie. What I loved about it is that even if I'm straight and all, I didn't feel excluded in whatever way while watching the movie. I cried a number of times. By showing the ups and downs of the two main characters' relationship, the movie made me see the ups and downs that couples, whether gay or straight, go through. And, the loneliness of the characters really got to me. The movie showed me truths about life much more than most movies I've seen ever did. And it affected me… much, much more than I ever thought it would. I say it's definitely Wong Kar-Wai's best! I've always loved Tony Leung Chiu Wai, but in this movie, he really outdid himself! I totally loved the movie! :)

Okay, so after the movie, I went to grab a bite at Philcoa and eventually decided to stay a little longer so I could check my email and read whatever's new with my blog friends. But, I couldn't really concentrate since my mind was still in "Happy Together" mode, meaning I couldn't think of anything other than the movie. Just before I left the Net Café, I checked my cellular phone in case my friends texted me. No message received. I never thought that would be the last time I'd see my phone. After that, I went to the terminal and took the jeepney. As we approached UP Campus, I noticed that my bag was opened halfway. Not giving it a thought at all, I just closed it. As soon as I got to my room, I opened my bag to get my phone. I was so shocked to find it wasn't there. I looked for it in the pockets. Not there either. Then, the idea sank in. Somebody took it; that was why my bag was open! I was in deep "Happy Together" thought that I didn't even notice my bag being opened and my poor phone, my companion for two years, being stolen! :(

I was in total shock for a while. I wanted to shout; I wanted to cry. I wanted to tell my friends, but how could I? I couldn't text them, I just lost my phone! Then, I calmed myself down and kept telling myself, "Happy thoughts, happy thoughts! Come on, happy thoughts…" And, after a little more self-pitying, I finally got over it. I thought it was a good thing, after all, that whoever took my phone didn't take anything but the phone. I mean, imagine if s/he took my wallet as well. God, that would have made me really cry or want to kill somebody! Having lost my phone would mean "freedom". I won't have to text some people my whereabouts all the time. I won't need to explain why I didn't text back or why I couldn't go and meet up since there's no way I'd have known that they texted. Believe it or not, these things were enough to make me smile. Oh, and, besides, I can still buy a new phone. yeah, after I've saved enough. Or maybe my folks could get me a new one. Hehe!:) Now, how's that for a brighter side? ;-P