28 January 2005
Being Alone...

I like being alone every once in a while. It gives me the chance to reflect and introspect. It gives me the chance to look at so many things in ways I've never looked at them before. It gives me the chance to plan for my future. It gives me the chance to go back to what's past and gone. Being alone with my thoughts would sometimes bring me huge smiles and hearty laughs, sometimes fat tears and heavy sighs. It is when I am alone that I can think clearly. It is when I am alone that I can easily hear what my heart has to say. It is when I am alone that I am able to see and gauge how and what I am or what I have become as a person.

But, sometimes, I hate being alone. It would sometimes bore me to tears and make me want to shout my lungs out. Loneliness is one of the feelings I least like. In my experience, at worst cases, loneliness would lead me to really bad depression spells. It's doubly tough for me because I'm the type of person who's almost always happy. When I'm depressed, my worst self surfaces and I start to see only the negative side of things. I do not see or I'd even refuse to see the positive side of things, which is what I would normally and usually do. When I'm depressed, I'd want to isolate myself from other people because I'd feel like I'm a bomb waiting to explode. When I'm depressed, I'd hate myself because I sort of become the person that I don't want to be or just the opposite of what I really am (or probably what I think I really am). In short, I become schizophrenic when I'm depressed!

Right now, I feel so alone. It's not the type of 'being alone' that I like. It's the type of 'being alone' that drives me nuts! It's one of those really bad times… :(




20 January 2005
Eid ul-Adha...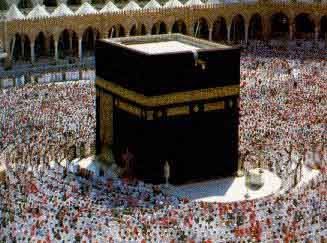 The Holy Ka'abah...


Today is Eid ul-Adha. I think I mentioned in my Eid ul-Fitr entry that there are only two important holidays in Islam that are REALLY celebrated. These are the two Eids. Eid ul-Fitr, of course, is the end of Ramadhan. Eid ul-Adha is the Eid of Sacrifice (not the translation). In Muslim dominated countries and places, celebration for the Eids would take days. Basically, these two Eids are to the Muslims like what Christmas and the Holy Week are to the Christians.

Eid ul-Adha is the day that reminds Muslims to sacrifice worldly desires and pleasures for and in praise of Allah. Like during the Eid ul-Fitr, we also have a special morning prayer on this day. The sermon would usually be about the story of why we celebrate this day. The story is about the Prophet Ibrahim or Abraham (peace be upon him). On the eve of this same day, probably hundreds of years ago, Prophet Ibrahim (pbuh) was, through a very vivid dream, ordered by God to slaughter his own son whom he loves very much. This was actually a test to see how strong his faith was. When he woke up in the morning, with a heavy heart, he resolved to do what was asked of him. He brought his beloved son to the mountain to slaughter the poor boy. The prophet was so sorry, but what could he do? He was doing this for God. He actually left everything to God. As he was about to slaughter the boy, God sent Angel Jibreel and ordered that a sheep be put just on top of the boy so that instead of the boy, the sheep would be the one slaughtered. Prophet Ibrahim (pbuh) was ecstatic when he saw that it was not his son that he slaughtered. Thus, he passed the test because he showed that he was willing even to kill his own beloved son if that was what God wanted. He showed how strong his faith was.

The story shows and reminds us of the ways of the prophets, how they can sacrifice anything for and in praise of God. Every Muslim, during the Eid ul-Adha, is to meditate and reflect on the things s/he has done in the past. We ask forgiveness for things that we have done that may have caused anything bad or destruction to anything or anybody. We'd ask forgiveness from all our friends, family and loved-ones for any action or word that may have hurt their feelings or hurt them physically. Most especially, we ask forgiveness from God. We believe that on this day, if a person asks forgiveness sincerely and repents with all his/her heart, s/he shall be cleansed from all his/her sins. It's like being born anew.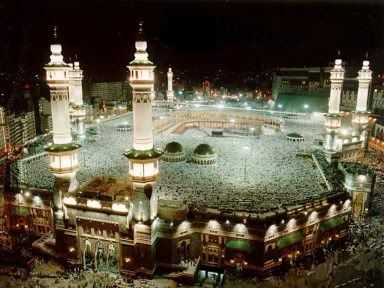 Masjidil Haraam...


Also on this day, the hajjis (pilgrims) in Mecca throw pebbles and stones to three huge rocks that represent the devil and evil spirits. These rocks are at Jabal al Rahma (Mountain of Forgiveness) on Mount Arafat just outside of Mecca. I guess the stoning is representative of the hajjis' resolve to fight evil, especially inner evil. It is said that when the world-famous boxer Muhammad Ali went to Mecca for his pilgrimage, as they were throwing stones and pebbles, he went down to the rocks and hit them with his bare hands!

This day reminds Muslims to be good, devoted Muslims. I hope and pray that I be one of those cleansed and, from here on, start to be the best Muslim I can be. Allahumma ameen!


Happy Eid, everyone! :)



18 January 2005
Drew's dad...

Two entries ago, I asked everyone (who'd come across this blog) to help us pray for Drew's dad as his MRI results showed that he had a malignant tumor in his brain. Yesterday, just after lunch, I received a message telling me that Drew's dad passed away at lunch time. I was so shocked by the news because last time I talked to Drew, they were really hopeful. The doctors said that his dad had about 75% survival after the operation. And then, all of a sudden, it happened…

I guess it was for the best. Having been a strong man all his life, it would have been so difficult and so frustrating for Drew's dad to have to have to live the rest of his life being helpless or even bedridden. That would have been the worst for him. God probably just didn't want him to suffer. I guess taking him was God's answer to our prayers.

To everyone who helped us pray, thank you very much! :)




16 January 2005
Entries that should've been...

I was reading what I have, so far, blogged about since 2005 started, and decided to look at my December entries as well, and I realized that there have been some things that I wanted to blog about, but never really got down to blogging about. I think it was Anj who once said, in one of her entries from long ago, that she would sometimes find her mind in 'blog mode' or something to that extent. In some situations and occasions I found myself in back in December, I also found my mind to be in full 'blog mode'. This would probably explain why I forgot that I haven't really blogged about these things. I was thinking all along that I've actually written about them. Hehehe:)


Simbang Gabi…

On December 15th, I went with my friend, Bok, to the first Simbang Gabi (literally translated as 'night prayer') of the year. Simbang Gabi, especially in the Philippines I think, is held at 8 o'clock in the evening and at 4 o'clock in the morning. People can choose whether to go to the 8 o'clock mass or the 4 o'clock one. Bok opted to go to the 8 o'clock mass with me in tow. As we entered the Church of the Jesu at the Ateneo, we found that the church was almost full. It wasn't really my first time to hear Catholic mass (the first Catholic mass I was in, though, was a mass for the dead when a friend of ours died), but everything was just so new to me. I liked the songs and the choir. I was familiar with some of the songs. Having grown up in a community where Muslims and Christians co-exist beautifully, I used to hear these songs sang by people I knew and people I grew up with.

What I liked most about the mass was the homily. The officiating priest (I sure hope I'm using the right term here) was Father Tito Caluag. His sermon was all about 'light'. He talked about how nice and right it was to become the 'light of others'. Light, he said, is not there so that people could stare at its beauty and marvel because that would hurt the eye. Light is there to help people see their way. Thus, being the 'light of others' is being there to help others or guide others to the right way/path. This could be done, among other ways, simply by living a clean life and trying to be a good example or a model citizen.

That was basically how I understood the sermon. I really loved it. I couldn't help but think it's like fighting for one's personal jihad (that is struggling to be the best Muslim one can be) so that, in one way or another, one becomes an instrument for others to find the right path. That was how the Holy Prophet Muhammad (s.a.w.) lived his life. He was, is and forever will be the 'light' that keeps Muslims on the right way.

The mass ended with the church-goers wishing one another peace. We, Muslims, always end prayers with "assalaamu alaikum" (peace be with you). It was a nice experience.

Thanks, Bok! :)


***********

The Rainbow Party…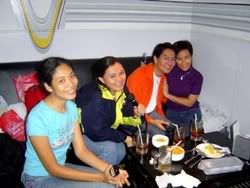 Bok, me, Drew, Toni...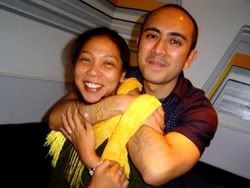 ...Ria and Erik!

I've always enjoyed parties. The Hope for Our Flowers with Special Guests Rainbow Christmas Party was one of the best ones I've been in in a long time. It was so much fun because the party was exclusive. There were only six of us, that is! Each person was assigned to wear something that would represent one of the colors of the rainbow. Red, orange, yellow, green, blue, indigo, and violet! Since we were only six, no one was assigned to wear indigo. It was too weird a color in the first place. Mine was red. We also exchanged gifts. The gifts had to be something that could be associated with rainbows or the rainbow colors. I got a beautiful blue (with rainbow colors accent) tubao (scarf).

We did nothing but play games, laugh and sing! The party was held at Red Box in Greenbelt (for those who don't know, that's a nice karaoke lounge). I was feeling feverish at that time, but I forgot I was sick as soon as the singing started. We sang all songs that had to do with rainbows (Rainbow Connection, Somewhere Over the Rainbow, etc.) and the rainbow colors (Yellow Submarine, Bluer Than Blue, etc.).

That party was, to me, a proof that quality time spent with good friends are always the best. No matter how little time we have with good friends and no matter how seldom (or often for that matter) we see them, times spent with them always help pull us to our feet and keep us going and going and going… and partying on!

Thank you Drew, Erik, Ria, Bok and Toni for one of the most fun parties I've ever been in and for the friendship. I'm looking forward to a lifetime of camaraderie with you, guys! :)


**********

Meeting Anj…

One of my first few blog friends was Anj. I was so fascinated with blogging that I spent many nights at the Internet Centers in Philcoa. I read every single blog I came across. I can't exactly remember how I found Anj's Biyaheng Mindanao and I certainly don't remember how I came to realize that Anj and Angie, the girl Bok introduced to us a few nights before I found the blog, was one and the same. I got interested in her blog because she talked about her travels around Mindanao and she had a nice entry about Marawi City (where I'm from). I posted comments on some of her entries and asked her, I think, if I could add her blog to my links. That was the start of our blog friendship. Naks! :)

By the way, the night Bok introduced us to Anj, Erik and Rowie (another friend of theirs), we couldn't really see one another because we were at the dorm parking lot. They (the two girls) wanted to use the ladies' room, but after learning that it had no lights they changed their minds. We said quick hi-hellos and then they left.

The next time Anj and I 'met' or saw each other was when I gave her the books that she wanted to borrow. It was another 'hi-hello-then-you're-gone' kind of meeting. Bok, again, introduced us to each other and I gave her the books. We were smiling at each other, she was thanking me for the books and telling me how and when she could give them back and the next thing I knew I was at the door waving goodbye. Weird, huh? I thought it was.

And, in the evening of December 20th, I finally got to really meet Anj. This time, we spent a little more than 30 minutes together (with the others). It was really nice having met and talked to Anj. We didn't really talk like "talk". I guess I was feeling a little shy at that time. I'm always shy at first meetings, you see. But, that time, I felt more comfortable than I would usually feel at first meetings. After some time, I was comfortable enough to throw jokes here and there and laugh really loud, too. It was really great because it felt like I knew her for a long time already. I mean, you know, after a year of reading each other's blog and all, it was weird and difficult to think that we weren't really friends in the real world… yet. I didn't tell her that (now, I am), but that was how I felt.

Anj, it was really, really nice having finally met you. 'Til next time, Insha-Allah (God willing)… :)



11 January 2005
Salamat, salamat po...

The sadness and shock I felt over learning that my Uncle Arab was arrested a few days ago was replaced by happiness and thankfulness when I found out yesterday that he was released and was not hurt or anything. We are still very sad, though, for the five others who were not released and who are going to be charged by the authorities. One of them is, Afghani Alonto, the son of the late former Senator Ahmad Domocao Alonto. We are really praying and hoping that the truth come out soon.

According to the News, sixteen Muslims (including women) were arrested for allegedly being involved in a plot to do suicide bombing in Quiapo on the celebration of the Black Nazarene Day. But, eventually, authorities had to release eleven (including my uncle) of the sixteen due to lack of evidence to prove their involvement in the said plot. Lack of evidence my foot! There wasn't and never will be any evidence because those people were/are innocent.

I would just like to share some thoughts I had upon hearing about these supposed terrorist plots. Don't you think that if a terrorist were really that bent on spreading terror and taking as many lives as he can, the best time to do that would have been during the time FPJ was taken to his final resting place? There were thousands and thousands of people there and some suicide bomber would have definitely gone unnoticed. Why would a real, cold-blooded terrorist wait for another venue or event when the perfect one was just in front of him? It would have been so easy to pull, too! I do not have terrorist inclinations or whatever. I would never, ever dream of this happening. I just wish that before they would pick and arrest 'rebels', the police would use their brains first. That way, they wouldn't fall flat on their stupid, ugly faces!!!

Oh, enough about this for it's giving me a migraine attack and putting me in a belligerent mood. I would just like to say to everyone who helped me (us) pray for my uncle, thank you sooo much! Prayers are really the best help one can give. May God bless you all!

Alhamdulillah! (All praise be to God!)




08 January 2005
A Request for Prayers...

I have never in my life doubted the power of prayers. I've always believed that with a lot of prayers and doing one's part, one can achieve anything. I also believe that the more people there are praying for something, the more powerful the prayers are and the more likely that something will be realized. I know that the Worlwide Web is a great venue to seek information and ask help even from people one does not really know. Through this blog, I am requesting and asking everyone who reads or gets to read this post to please help me (us) pray for the following:

For my friends in Aceh, Indonesia...

Ever since the tsunami hit most parts of Asia and some other countries, I have been really praying that the calamity ends there, that it doesn't hit anymore countries. And, upon hearing that one of the places devastated most was Aceh in Indonesia, I became so worried because I have some friends living there. One very good friend of mine, Dekna, is from that place and ever since the tsunami hit, I have been trying to establish contact with her, but to no avail. After some days, another Indonesian friend from Jakarta sent me a message that Dekna was actually safe and sound, except that their house and everything that they owned was destroyed and wiped out by the tsunami. They don't have food and they live in a refugee camp/center now. Some members of her family are still missing, as well as some other SSEAYP alumni friends of ours. It's really different when you actually know some people from the devastated places. I mean, I usually pray for all the victims in general, but knowing that I actually have a very good friend from one of these places really intensified my prayers and made my prayers more sincere. Please, please do help me pray for Dekna, her family, our other friends and all the other victims.


For Drew and his dad...

Drew is one of my closest, closest friends. He is one of the nicest guys ever. I just love him dearly. Late last year, his dad had a stroke and was rushed to the emergency room of some hospital here in Manila and got better after some days. But, just right after the New Year celebrations, Drew texted telling me that his dad got sick again. He was just so worried. Drew is very, very close to his dad, you see. The whole time his dad was in the hospital, Drew was at his dad's side. He became his dad's source of strength. The dad's condition improved every time Drew was with him.

A few nights ago, Drew again texted telling me that his dad's MRI results showed that there was a malignant tumor in his brain. It was such a sad news. Drew is really, really down right now and he says that this really is the lowest point of his life. I am praying that God gives Drew and his family the strength that they really need right now. I am continuously praying for Drew's dad. Please help me (us).


For Uncle Arab...

Uncle Arab is my mom's first cousin. He is an ustadz (Islamic teacher/Muslim scholar). All my life, I've always known that Uncle Arab really dediacated his life to this "calling". He was based in Saudi Arabia for a long time and then he moved back to Manila. He became one of the officials in the Quiapo Golden Mosque. I've always known him to be a very nice man, like any other ustadz who understands what Islam is really about.

The shock of my life came last night when my friend texted me about seeing (on TV) Uncle Arab being arrested and handcuffed by the police. The police apparently arrested my uncle for being involved or planning some bombing somewhere here in Manila. I just could not believe it! The news made me so sad because I know that my uncle is NOT a terrorist. Sure, he may look like one (since nowadays the typical terrorist look is that of a Muslim-clothing clad male who grows a beard), but I will bet my *ss that he is NOT a terrorist. Our family is known to be very peace-loving. We don't even own guns as opposed to most families in our province. And, if these policemen only knew what kind of things Islamic teachers/scholars, like my uncle, do, they would be ashamed of themselves. People like my uncle go around places where there are Muslims and preach about peace and about what Islam really is. A real ustadz will never be involved in a terrorist act! My uncle is every inch an ustadz. He will never do anything to hurt another human being!

Besides, all these bomb threats and bombings that happen in the Metro do not really involve Muslim rebels. I really do not believe that the MNLF, MILF or even the Abu Sayaff would go out of their way to terrorize Manila. Why? Muslim rebels will not do anything in Manila because Manila is not their business. Only Mindanao is their concern, Muslim Mindanao that is. If you really think about it, these Muslim rebels don't even have money to go to Manila! I am certainly NOT for these rebels or anything, but it is really irritating for a Muslim like me to see that every time there's a bombing incident or a bomb threat, random Muslim men and women are picked up by the authorities and presented to the media. I can confidently claim this is the truth because I knew someone they picked up randomly from somewhere and tagged as a terrorist. The poor boy was tortured but not as bad or not as much as the others, who were also randomly picked, because he had asthma. He's very young, much younger than I. He was a freakin' student, a really quiet one at that! Just because he looked like Osama Bin Laden doesn't mean he is another Osama Bin Laden. If they (police and authorities) don't stop doing this, then we will surely be seeing Filipino Osama Bin Ladens in the near future. And, that's bad and sad for all of us! I am always, always praying for understanding and enlightenment for all people (the police, the authorities, the rebels, and the common people). Please, my friends, let us all pray for this country and all its people.


**********

Today's event...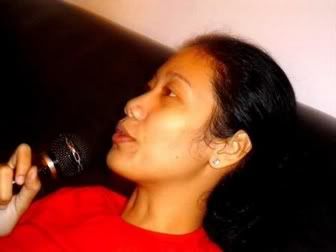 Bok... the singing birthday girl!!! :)

On the brighter side, today is my very good friend Bok's birthday. We got together, went karaoke-ing, ate, ate, and ate more! It was such a great day! Happy birthday, Bok! Mwah! Mwah! Mwah! :)



04 January 2005
My very first attempt at Meranao Poetry...

I don't really have a New Year entry and I'll be too depressed if I write about what has been happening in the world, so I'm just going to share something about one of my favorite things in the world, the MERANAO (also spelled 'Maranao' or 'Maranaw') language!

I love the Meranao language. It's like music to my ears when I hear or listen to people speaking it. The way the sounds roll from the mouth is just beautiful. Sometimes, when I speak it with family and friends, I just can't help but be thankful I was born Meranao, hence it's but natural for me to know the language. Other people may find the language funny sounding (like a friend of mine who teases me endlessly when I try to teach her, she says I make up the words) and all. But to me, the Meranao language is the most beautiful, the best-sounding language in the whole world! And also, the Meranao language is my identity, my culture. It is me!

It really saddens me how the younger Meranaos of today are slowly 'forgetting' the language. Because of the frequent use of English and/or Tagalog, not one Meranao teenager or twenteener I know can speak pure, unadulterated and/or straight Meranao. Not even myself! I try my best to speak straight Meranao when I do speak Meranao. It's just a little difficult, though. Had I my way, I would never allow our people to forget the language. Oh no, not if I can help it!

To show but a sample of the beauty of MY language, here is my first ever attempt at Meranao poetry. Uhm, the poem is not really good, but it's worth a try.


Seka Oto a Kawawatanan

Sii sangkai a kagagawii a matengaao
'Go apiya sii ko kayaw o kadaondao
Na da ped a sii sa pikir a rowar ko sindao
O paras ka a da ba niyan datar sa doniya!

Pekhapolid so lo' aken na rengan niyan
So kapephakasinga o poso sa kababaya iyan
Ko kapekhailaya reka o pikir a kabasa niyan:
"Ey, so ranon ko reka na da lomabi ron sa doniya!"


**********

The poem is about a persona's feelings for someone who is far away. :)