08 January 2005
A Request for Prayers...

I have never in my life doubted the power of prayers. I've always believed that with a lot of prayers and doing one's part, one can achieve anything. I also believe that the more people there are praying for something, the more powerful the prayers are and the more likely that something will be realized. I know that the Worlwide Web is a great venue to seek information and ask help even from people one does not really know. Through this blog, I am requesting and asking everyone who reads or gets to read this post to please help me (us) pray for the following:

For my friends in Aceh, Indonesia...

Ever since the tsunami hit most parts of Asia and some other countries, I have been really praying that the calamity ends there, that it doesn't hit anymore countries. And, upon hearing that one of the places devastated most was Aceh in Indonesia, I became so worried because I have some friends living there. One very good friend of mine, Dekna, is from that place and ever since the tsunami hit, I have been trying to establish contact with her, but to no avail. After some days, another Indonesian friend from Jakarta sent me a message that Dekna was actually safe and sound, except that their house and everything that they owned was destroyed and wiped out by the tsunami. They don't have food and they live in a refugee camp/center now. Some members of her family are still missing, as well as some other SSEAYP alumni friends of ours. It's really different when you actually know some people from the devastated places. I mean, I usually pray for all the victims in general, but knowing that I actually have a very good friend from one of these places really intensified my prayers and made my prayers more sincere. Please, please do help me pray for Dekna, her family, our other friends and all the other victims.


For Drew and his dad...

Drew is one of my closest, closest friends. He is one of the nicest guys ever. I just love him dearly. Late last year, his dad had a stroke and was rushed to the emergency room of some hospital here in Manila and got better after some days. But, just right after the New Year celebrations, Drew texted telling me that his dad got sick again. He was just so worried. Drew is very, very close to his dad, you see. The whole time his dad was in the hospital, Drew was at his dad's side. He became his dad's source of strength. The dad's condition improved every time Drew was with him.

A few nights ago, Drew again texted telling me that his dad's MRI results showed that there was a malignant tumor in his brain. It was such a sad news. Drew is really, really down right now and he says that this really is the lowest point of his life. I am praying that God gives Drew and his family the strength that they really need right now. I am continuously praying for Drew's dad. Please help me (us).


For Uncle Arab...

Uncle Arab is my mom's first cousin. He is an ustadz (Islamic teacher/Muslim scholar). All my life, I've always known that Uncle Arab really dediacated his life to this "calling". He was based in Saudi Arabia for a long time and then he moved back to Manila. He became one of the officials in the Quiapo Golden Mosque. I've always known him to be a very nice man, like any other ustadz who understands what Islam is really about.

The shock of my life came last night when my friend texted me about seeing (on TV) Uncle Arab being arrested and handcuffed by the police. The police apparently arrested my uncle for being involved or planning some bombing somewhere here in Manila. I just could not believe it! The news made me so sad because I know that my uncle is NOT a terrorist. Sure, he may look like one (since nowadays the typical terrorist look is that of a Muslim-clothing clad male who grows a beard), but I will bet my *ss that he is NOT a terrorist. Our family is known to be very peace-loving. We don't even own guns as opposed to most families in our province. And, if these policemen only knew what kind of things Islamic teachers/scholars, like my uncle, do, they would be ashamed of themselves. People like my uncle go around places where there are Muslims and preach about peace and about what Islam really is. A real ustadz will never be involved in a terrorist act! My uncle is every inch an ustadz. He will never do anything to hurt another human being!

Besides, all these bomb threats and bombings that happen in the Metro do not really involve Muslim rebels. I really do not believe that the MNLF, MILF or even the Abu Sayaff would go out of their way to terrorize Manila. Why? Muslim rebels will not do anything in Manila because Manila is not their business. Only Mindanao is their concern, Muslim Mindanao that is. If you really think about it, these Muslim rebels don't even have money to go to Manila! I am certainly NOT for these rebels or anything, but it is really irritating for a Muslim like me to see that every time there's a bombing incident or a bomb threat, random Muslim men and women are picked up by the authorities and presented to the media. I can confidently claim this is the truth because I knew someone they picked up randomly from somewhere and tagged as a terrorist. The poor boy was tortured but not as bad or not as much as the others, who were also randomly picked, because he had asthma. He's very young, much younger than I. He was a freakin' student, a really quiet one at that! Just because he looked like Osama Bin Laden doesn't mean he is another Osama Bin Laden. If they (police and authorities) don't stop doing this, then we will surely be seeing Filipino Osama Bin Ladens in the near future. And, that's bad and sad for all of us! I am always, always praying for understanding and enlightenment for all people (the police, the authorities, the rebels, and the common people). Please, my friends, let us all pray for this country and all its people.


**********

Today's event...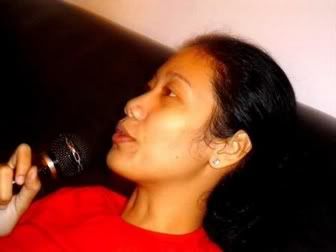 Bok... the singing birthday girl!!! :)

On the brighter side, today is my very good friend Bok's birthday. We got together, went karaoke-ing, ate, ate, and ate more! It was such a great day! Happy birthday, Bok! Mwah! Mwah! Mwah! :)