23 March 2005
25...

I am a quarter of a century old today.



To my Sanggumay Diyosa family, thank you so much...
Makahilak man sad ta ninyo, oi.

********

For my 25th birthday entry, I shall list down (top) 25 things I want to do or achieve in my lifetime. The list is in no particular order.


1. Go to Hajj (pilgrimage).

2. Go study or work for a while in Japan.

3. Watch my favorite soccer team (Juventus) play in person and see my biggest crush, the love of my life David Trezeguet, in action.

4. Teach at the Mindanao State University (Marawi Campus) and try to make a difference in young people's lives the way some of my teachers did.

5. Train and develop young Meranao people in every field I have knowledge and skills/talent in.

6. Watch the APO Hiking Society perform in person.

7. Learn at least eight different languages. By this, I mean really know the languges in the sense that I'd be able to read, write, understand and speak the languges fluently. (At present, I know four languages - Meranao, Bisaya, Tagalog and English. I'm learning/studying Nihongo, Ilokano, Tausug and Arabic. I'm planning to learn more.)

8. Get married and have at least two children.

9. Build or buy my own house.

10. Be able to have my parents go to second-time Hajj or go on vacation in another country (all expense paid by me).

11. Go around and visit every single city and municipality in the Philippines (Mindanao first).

12. Go see and visit other countries and learn about different cultures. (Top 5 countries I want to visit are: Cambodia, England, India, Greece, and China!)

13. Do volunteer work for better education of the underpriveleged, the indigenous peoples and the Muslims in the Philippines.

14. Read the whole Qur'an and the Hadith.

15. Write a book and have it published.

16. Read all Literary classics and Philippine Literry Canon books.

17. Learn to play the piano.

18. Be able to give my sister something that she really wants, but can't get herself.

19. Meet and talk to Arundhati Roy.

20. Be a lawyer (as promised to my grand uncle who passed away earlier this year).

21. Watch some Broadway Musical(s).

22. Take up photography.

23. Win a writing award.

24. Have my own library and/or bookstore that has a huge Filipiniana section.

25. Be MSU System President!


These dreams keep me going. I know that I might not be able to do or achieve some of them or that some of these dreams may change, but that won't stop me from going. Dreams, after all, are the life of our lives. I know, deep in my heart, that I will get there... wherever there may be. :)

I'd like to share my motto (courtesy of my mom):
"One broken dream is not the end of dreaming."



16 March 2005
Wanted: Inspiration... now!!!

I remember asking Balbonics what her New Year's Resolution was back in January 2004. She jokingly answered, "stop waiting for inspiration!" I remember laughing about that because I knew what that meant. Balbs and I are very much alike in our approach to our studies, you see. We are both "crammers" and we would sometimes come to class half prepared for certain reports or recitations. While our classmates were comparing notes about their readings and all, Balbs and I would be very busy rushing or finishing the last few parts of our reports or our readings. Despite this, Balbs and I would often just laugh about everything. Yeah, we could laugh because we would usually do okay almost all the time. (Oh man, Balbs, I miss you so much tuloy...)

Anyway, at this moment, I am trying to finish, make that rushing to finish, a paper on language theories. I'm supposed to trace the history of language studies on a map or a timeline and I'm to situate the present or contemporary language theories on this map. I also need to discuss every single theory or study that will be in my map. Ambitious that I am, I wanted to start from the very beginning. And, I did. I started with Adam's naming of the different creations and the story of the Tower of Babel (from the Genesis). There's the Egyptian King Psammetichos' story. And then, of course, there's Panini's almost mathematical presentation of Grammar. The Greeks. More theories and still more. From the United Kingdom to Prague to the United States, etc. We have Firth, Bloomfield, et cetera, et cetera! Then, Chomsky's Transformational Generative Grammar.

I've been reading on these people for the past two years, so much that they've invaded even my dreams! Whew! My problem, at the moment, is that I can't seem to write anything that, to my standard, is worth submitting! My "moment" hasn't come yet! I'm still waiting for inspiration! I do not understand what's eating me, but I can't do academic writing right now! I know, I know... If I really want to do it and get it over with, I can, right? But, I don't want to. Lest, I write something, uhm, stupid. I sure hope inspiration comes soon. I've given myself until my birthday to finish everything. I need inspiration... now!!! I have a week more to go! I still have to go over my Discourse Analysis paper, too! Hay!

********
By the way, thanks to my very good friend,
Erik
, for his help with the Bible. :)
14 March 2005
Little Isabel...

Today, as I was bloghopping, I hopped into a blog dedicated to one of the most beautiful little girls I've ever seen. Her name is Isabel. As I read through the entries, I knew what I had to do.

Let me introduce her to you.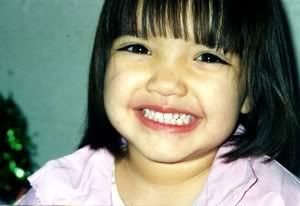 This is Isabel Lynn Coupland. She's Filipino-American. She will be five years old on the 20th of March. Her beautiful smile would tell you what a sweet little angel she is. She's a happy little girl, not different, I guess, from other little girls her age. But, sadly, on May 7th, 2004, she was diagnosed with Neuroblastoma Stage IV.

I have always been one to believe in the power of prayers. Thus, I am asking everyone who reads or comes across this blog to please help pray for little Isabel.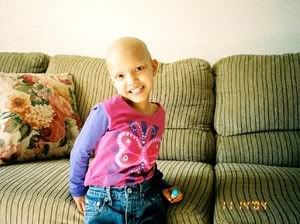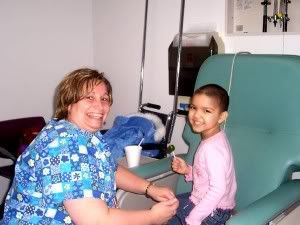 I can only admire her strength. Her beautiful smile truly serves as an inspiration... :)

--

We can also help by sending her cards or letters to show her that she is not alone in her battle. Here's the addy:

Isabel Coupland
5000 Inspiration Dr.
Hilliard, OH 43026
USA

--

We can read more about her and her battle here.



09 March 2005
Quizzes Galore... I'm addicted!

You are a GRAMMAR GOD!


Congratulations! If your mission in life
is not already to preserve the English tongue,
it should be. You can smell a grammtical
inaccuracy from fifty yards. Your speech is
revered by the underlings, though some may
blaspheme and call you a snob. They're just
jealous. Go out there and change the world.




How grammatically correct are you?



brought to you by Quizilla

--
really, now? :)

********
Your Brain is 66.67% Female, 33.33% Male

Your brain leans female

You think with your heart, not your head

Sweet and considerate, you are a giver.

But, you're tough enough not to let anyone take advantage of you!
--
oh-kay!
********
You are 47% Aries
--
i never really believed in astrology...
********
You Have Fantastic Karma

You are a kind, sensitive, and giving person.

And all your good deeds will pay off - if they haven't already.

But you're not so concerned with what you get in return anyway.

You have an innate caring nature - and nothing can change that!
--
that's nice. i liked that. :)
04 March 2005
Back to normal...

Hay, my Visayas trip was great! It was one of the most relaxing trips I've had in my whole life. As soon as we were on our way, I decided to leave all my concerns and 'works-to-do' behind and not to think about any of them while on the trip. That made my trip such a nice and enjoyable one. Every single moment I had in Visayas was fun, fun and fun!

After just a whole day in Boracay, it felt like we've been there for the longest time. We were so relaxed. No one talked about what each of us left unfinished back in our respective homes. Being part of the Secretariat Committee, I was busy throughout the duration of the National Convention. But, it was the kind of busy that you like. Not the kind that drives you nuts! There were about 55 of us (90% alumni, 10% guests). We had fun in the sea. We partied 'til the wee hours. We ate a lot! We laughed, talked and laughed again. We went snorkeling. We sang and danced. We played games. It was a 4-day vacation from reality. :)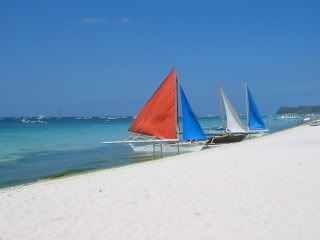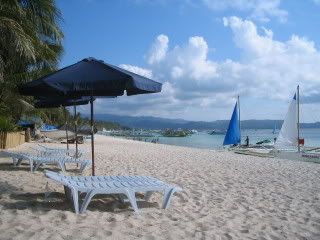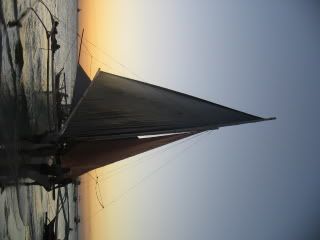 Boracay is a very nice place. It's not as nice as I imagined it to be, though. But, I'd definitely go back there anytime. :)
********
For our Interaction with Local Youth (how very SSEAYP!!!), we went to the other end or side of the island. We had to take the motor boat to get to the place. The place we visited was called
Buruanga
. We went to a community high school. I always love going to communities and interacting with local folk. The students even prepared a dance number (
Pearly Shells
) to welcome us. It was obvious how excited they all were. The mayor said, in her speech, that it was actually the first time that these students received visitors.
Everything about the interaction was great. I really loved the kids! We played local games (wherein my team, the Sugoi team, won two out of the three major games! Wahahaha!). There was even a coconut planting ceremony. :) The SSEAYP people that we were, we all felt like the young ambassadors of goodwill that we were back in our SSEAYP days. And, of course, we sang the famous SSEAYP songs (
Rambadia
,
Vietnam Ho Chi Minh
,
Rasa Sayang
,
Singapura
,
Ue o Muite
,
Nippon Maru Song
,
Yesterday's Dream
, etc.). Ah, nostalgia!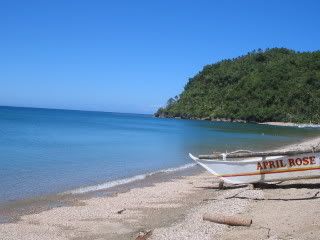 Seashore in Buruanga...
********
After the NatCon,
Abu Kirth
and I went to Iloilo to prolong our vacation. Hehehe:) In Iloilo, we homestayed at
MaCho
's (my former dorm-mate). That Iloilo trip was the perfect ending to a perfect vacation/relaxation trip.
MaCho
drove us around in her jeep. Her whole family was just amazing. They made us feel so at home. Again,
Kirth
and I couldn't help reminiscing about our SSEAYP homestay experiences.
In Iloilo, we met with other ex-PYs (that is, SSEAYP alumni) and had fun again. We ate fresh sea foods and chicken all the time. The whole time we were there, we just ate, went city touring, ate, hung out and ate more! The oysters were the best! :)
MaCho, maraming-maraming salamat ulit! :)
At the table with MaCho...
(Macho's) Nanay and me...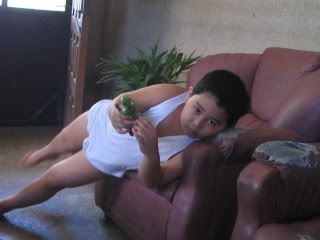 That's Lucas (MaCho's uber-cute nephew)...




********



Now, I'm back in Manila and my life is back to normal. I need to finish two papers before the 15th. I need to see my teachers. I need to find a job!!! Waaah!

Oh, by the way, my roommate is fine now. She doesn't stay in the dorm anymore, but her things are still here. She and her father (who came all the way from India to be with her) stay with a family friend. That was where she was brought after coming from the hospital. The address was actually not disclosed to us because they didn't think it was a good idea for her to see her boyfriend.

The guard told me that she visited and that she and her best friend are best friends again. :) And, I just learned that she will be leaving for her country on the 9th. We're not sure if that's for good. She's probably still embarrassed about what happened. Poor girl! :( I pray that she be okay and what happened never happens again. But for now, I'm very happy to say that she's also back to normal. :)