30 April 2004
I was a grandmama... for a while.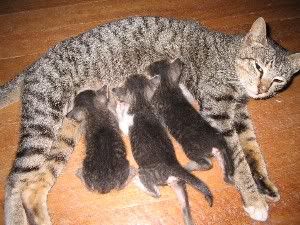 About two weeks ago,
Phoebe Buffay
(my baby/cat) gave birth to four cute kittens. My sister and I were really excited about it and we already decided which kitten would belong to each of us (one for me, one for my sister, one for our brother and, lastly, one for the maid).
Phoebs
brought her "babies" from the secret place where she gave birth in to my locker. There were nights we couldn't sleep because the little ones sang us "
meow-meow
" songs (someimes to our dismay!). We couldn't wait for them to grow big so we could play with them. But, all of a sudden,
Phoebs
got sick. Maybe, she ate something. For three whole days, she couldn't eat. She couldn't even walk two steps. She was just so weak. I fed her through a dropper. Everyone (except me) thought she would die. Every single night, I'd stay with her, praying and crying at the same time. It was total torture for me. I was so scared and worried.
After those dreadful days, she miraculously gained a little strength and was able to eat a little. But, she still couldn't nurse her "babies". She was sick for a week, and so, one by one, the dear little ones died. It was really sad, especially knowing and thinking that we couldn't do anything about it. There are no vets here. I played doctor to
Phoebs
, but the poor kittens, I (we) couldn't save them. :-(
Now, Phoebs is okay. She's a little weak still, but she has gone back to her old self again, sometimes even playing with
Dugong
(my sis' cat), who is also on the family way. :-)
And, another thing is that I have a new baby (kitten). He was given to me by my brother's girlfriend. He's a super sweet and lovable little guy. He's been with me all but two days and we are just so much in love. He sleeps on my hair... Hehehe:) After losing four "grandkittens", God has given me (us) one to fill the space/place left by our "angel kittens"... :-)
15 April 2004
MSU sweet home...

Ever since I started studying in Manila, going home has become the most exciting and most awaited part of the year for me. Last time I went home (summer last year), I had been away for two whole years. You could just imagine how much I missed MSU! I couldn't even sit still for days just thinking about home. The moment my foot touched MSU ground, I was just ecstatic. The clean, fresh and cold MSU air made me happier than I had ever been in the past two years. I mean, after almost sweating myself to death in Manila with its heat, feeling the cold MSU air and seeing the MSU fog made me so happy I could barely stop myself from crying. Add to that my excitement about seeing people I love and people I grew up with.

Now, I've again come home after a whole year of being away and I feel exactly the same. I have been here a week and the excitement and happiness grows day by day. I'll be here for two whole months. Yay!!!

I really, really missed MSU. The cold wind, the fresh air, the fog, the cold water (read: I still can't take a bath without boiling water first!), the golf course, Commercial Center, the King Faisal Masjid, the ascending road, the trees, our house, Darling's chicken barbecue, Phoebe Buffay (the cat), my family and friends, and so many other things found only in MSU! MSU (that is the Main Campus in Marawi City, of course, because there are some seven MSU campuses all over Mindanao) is my favorite place in the whole world. It's one of the places I would describe as 'heaven on earth' because of every single thing about it. It's really nice to be in a place where everybody knows everybody, where everything and everyone is familiar. It's always good to be in a place where everything is just so cheap that ordering a P50 meal would be considered outrageously expensive! It's cool to be in a place where you can just be who you are and you can do whatever you want to do. But, most of all, it feels great to be where one's heart is. It is always great to be home.

Here are some pictures I took…



I took this while on the plane...:)



Here are pictures of MSU...



View from my window...

The MSU sign at the Golf Course

MSU Golf Course

MSU Golf Course: View from the top...

This is "Tagaytay"...

...where we usually hang out. :)
More pictures to come.... Hehehe:)
04 April 2004
Cute cat models...

To take a break from the sleepless days and nights I spent working (say cramming) on my final papers, I decided to go stroll, with some friends, around the campus. We did the usual talking, laughing and just relaxing. Since they brought food with them, we decided to take our late-lunch somewhere in the campus. We walked around some more and finally settled to sit and eat at The Lagoon (a popular place to Peyups people). We stayed there for more than four hours doing nothing, buying and eating things sold around the place. Aah, there's really nothing like hanging out with old friends. :)

While we were there chatting and laughing over nothing and everything, two very "in heat" cats decided to join us. They were obviously hoping to have some of our goodies thrown to them. Of course, we gave them what they came for (the food), but they got more. As they lay lazing around the place, I was just so amused at them that I instantly decided to have them as my very fisrt "official models" for my long-planned photo portfolio. :) With my new camera in hand, I just let my excited, trigger happy self click away! To my utter delight and amusement, the cats turned out to be experienced models.

Here are my favorite shots. I just love cats!!!


Aren't cats just lovable?!! Enough said... :) MEOW!!!
*** **** ***
Me and My Friends...
Here are photos of me and my friends. :)

Leelah and me... Aren't we beautiful? Oh, but look at those eye bags! Tsk, tsk, tsk...

Dean and I... Whatchatink?! :)
01 April 2004
Yahoo!!!

For my birthday, I got myself a new digital camera! I have always wanted to get a good camera for as long as I can remember. I have always been interested in photography, but I couldn't really buy one because that would be too much of a luxury (and I couldn't afford to get myself one, anyway!). But, after saving for some months, saving the birthday cash-gift given to me by my parents and my aunt, saving some of the money I earned from my part-time job, I finally got my dream digital camera last week!!! :)

Now... I can take pictures of anything I want. I can finally take a picture of the view of that Iglesia ni Cristo church from the UP Sports Oval which never fails to take my breath away every single afternoon I pass by it. I can take pictures of God's magnificence (nature). I can take pictures of kids playing and running around. I can take pictures of students around the UP Sunken Garden and the soccer players in the field. I can take pictures of those Atenistas and LaSallistas playing American Football at the Sports Oval. I can take pictures of lovers and/or friends, under the shade of trees, lost in their own worlds. I can take pictures of dogs sniffing around the campus. I can take pictures of cute, lazy cats lying around the place. I can take pictures of my beautiful, wacky, crazy friends! I can take pictures of my cute nephews and nieces. I can take pictures of my sister in all her moods. I can take pictures of loved-ones. I can take pictures of dear, dear MSU! I can take pictures that would always make me remember places and things not worth forgetting. I can take pictures of anything and everything! :)

I am just so excited I can't stop grinning from ear to ear! Wait, I think I need to take a picture of myself... now! :)