30 April 2004
I was a grandmama... for a while.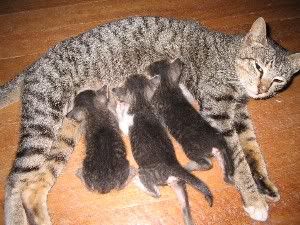 About two weeks ago,
Phoebe Buffay
(my baby/cat) gave birth to four cute kittens. My sister and I were really excited about it and we already decided which kitten would belong to each of us (one for me, one for my sister, one for our brother and, lastly, one for the maid).
Phoebs
brought her "babies" from the secret place where she gave birth in to my locker. There were nights we couldn't sleep because the little ones sang us "
meow-meow
" songs (someimes to our dismay!). We couldn't wait for them to grow big so we could play with them. But, all of a sudden,
Phoebs
got sick. Maybe, she ate something. For three whole days, she couldn't eat. She couldn't even walk two steps. She was just so weak. I fed her through a dropper. Everyone (except me) thought she would die. Every single night, I'd stay with her, praying and crying at the same time. It was total torture for me. I was so scared and worried.
After those dreadful days, she miraculously gained a little strength and was able to eat a little. But, she still couldn't nurse her "babies". She was sick for a week, and so, one by one, the dear little ones died. It was really sad, especially knowing and thinking that we couldn't do anything about it. There are no vets here. I played doctor to
Phoebs
, but the poor kittens, I (we) couldn't save them. :-(
Now, Phoebs is okay. She's a little weak still, but she has gone back to her old self again, sometimes even playing with
Dugong
(my sis' cat), who is also on the family way. :-)
And, another thing is that I have a new baby (kitten). He was given to me by my brother's girlfriend. He's a super sweet and lovable little guy. He's been with me all but two days and we are just so much in love. He sleeps on my hair... Hehehe:) After losing four "grandkittens", God has given me (us) one to fill the space/place left by our "angel kittens"... :-)
Comments:
savannah kitten surfing tonight looking at savannah kitten info, I happened across your blog. I had to say that I agree with it all!

Now back to my search for savannah kitten information!

Jon

Hey I just love your blog. I also have a dating web site
blog/site. I mostly deals with dating web site
Please come and check it out if you get the time!

Post a Comment
<< Home