04 March 2005
Back to normal...

Hay, my Visayas trip was great! It was one of the most relaxing trips I've had in my whole life. As soon as we were on our way, I decided to leave all my concerns and 'works-to-do' behind and not to think about any of them while on the trip. That made my trip such a nice and enjoyable one. Every single moment I had in Visayas was fun, fun and fun!

After just a whole day in Boracay, it felt like we've been there for the longest time. We were so relaxed. No one talked about what each of us left unfinished back in our respective homes. Being part of the Secretariat Committee, I was busy throughout the duration of the National Convention. But, it was the kind of busy that you like. Not the kind that drives you nuts! There were about 55 of us (90% alumni, 10% guests). We had fun in the sea. We partied 'til the wee hours. We ate a lot! We laughed, talked and laughed again. We went snorkeling. We sang and danced. We played games. It was a 4-day vacation from reality. :)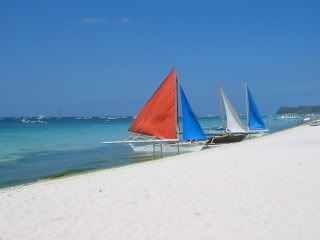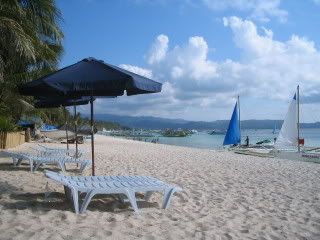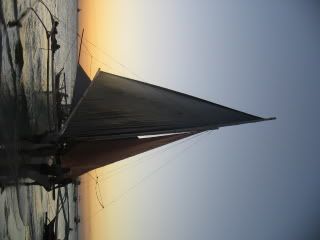 Boracay is a very nice place. It's not as nice as I imagined it to be, though. But, I'd definitely go back there anytime. :)
********
For our Interaction with Local Youth (how very SSEAYP!!!), we went to the other end or side of the island. We had to take the motor boat to get to the place. The place we visited was called
Buruanga
. We went to a community high school. I always love going to communities and interacting with local folk. The students even prepared a dance number (
Pearly Shells
) to welcome us. It was obvious how excited they all were. The mayor said, in her speech, that it was actually the first time that these students received visitors.
Everything about the interaction was great. I really loved the kids! We played local games (wherein my team, the Sugoi team, won two out of the three major games! Wahahaha!). There was even a coconut planting ceremony. :) The SSEAYP people that we were, we all felt like the young ambassadors of goodwill that we were back in our SSEAYP days. And, of course, we sang the famous SSEAYP songs (
Rambadia
,
Vietnam Ho Chi Minh
,
Rasa Sayang
,
Singapura
,
Ue o Muite
,
Nippon Maru Song
,
Yesterday's Dream
, etc.). Ah, nostalgia!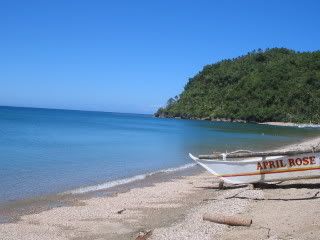 Seashore in Buruanga...
********
After the NatCon,
Abu Kirth
and I went to Iloilo to prolong our vacation. Hehehe:) In Iloilo, we homestayed at
MaCho
's (my former dorm-mate). That Iloilo trip was the perfect ending to a perfect vacation/relaxation trip.
MaCho
drove us around in her jeep. Her whole family was just amazing. They made us feel so at home. Again,
Kirth
and I couldn't help reminiscing about our SSEAYP homestay experiences.
In Iloilo, we met with other ex-PYs (that is, SSEAYP alumni) and had fun again. We ate fresh sea foods and chicken all the time. The whole time we were there, we just ate, went city touring, ate, hung out and ate more! The oysters were the best! :)
MaCho, maraming-maraming salamat ulit! :)
At the table with MaCho...
(Macho's) Nanay and me...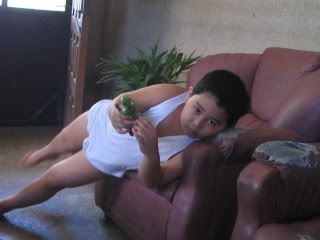 That's Lucas (MaCho's uber-cute nephew)...




********



Now, I'm back in Manila and my life is back to normal. I need to finish two papers before the 15th. I need to see my teachers. I need to find a job!!! Waaah!

Oh, by the way, my roommate is fine now. She doesn't stay in the dorm anymore, but her things are still here. She and her father (who came all the way from India to be with her) stay with a family friend. That was where she was brought after coming from the hospital. The address was actually not disclosed to us because they didn't think it was a good idea for her to see her boyfriend.

The guard told me that she visited and that she and her best friend are best friends again. :) And, I just learned that she will be leaving for her country on the 9th. We're not sure if that's for good. She's probably still embarrassed about what happened. Poor girl! :( I pray that she be okay and what happened never happens again. But for now, I'm very happy to say that she's also back to normal. :)



Comments:
Great pics. Its nice to know you do a lot of community work (or is that part of ur work?). Always hear a lot about Boracay. Kinds of reminds me that its been a long long time since I last went snorkeling.

Post a Comment
<< Home