20 January 2005
Eid ul-Adha...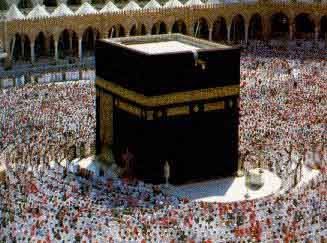 The Holy Ka'abah...


Today is Eid ul-Adha. I think I mentioned in my Eid ul-Fitr entry that there are only two important holidays in Islam that are REALLY celebrated. These are the two Eids. Eid ul-Fitr, of course, is the end of Ramadhan. Eid ul-Adha is the Eid of Sacrifice (not the translation). In Muslim dominated countries and places, celebration for the Eids would take days. Basically, these two Eids are to the Muslims like what Christmas and the Holy Week are to the Christians.

Eid ul-Adha is the day that reminds Muslims to sacrifice worldly desires and pleasures for and in praise of Allah. Like during the Eid ul-Fitr, we also have a special morning prayer on this day. The sermon would usually be about the story of why we celebrate this day. The story is about the Prophet Ibrahim or Abraham (peace be upon him). On the eve of this same day, probably hundreds of years ago, Prophet Ibrahim (pbuh) was, through a very vivid dream, ordered by God to slaughter his own son whom he loves very much. This was actually a test to see how strong his faith was. When he woke up in the morning, with a heavy heart, he resolved to do what was asked of him. He brought his beloved son to the mountain to slaughter the poor boy. The prophet was so sorry, but what could he do? He was doing this for God. He actually left everything to God. As he was about to slaughter the boy, God sent Angel Jibreel and ordered that a sheep be put just on top of the boy so that instead of the boy, the sheep would be the one slaughtered. Prophet Ibrahim (pbuh) was ecstatic when he saw that it was not his son that he slaughtered. Thus, he passed the test because he showed that he was willing even to kill his own beloved son if that was what God wanted. He showed how strong his faith was.

The story shows and reminds us of the ways of the prophets, how they can sacrifice anything for and in praise of God. Every Muslim, during the Eid ul-Adha, is to meditate and reflect on the things s/he has done in the past. We ask forgiveness for things that we have done that may have caused anything bad or destruction to anything or anybody. We'd ask forgiveness from all our friends, family and loved-ones for any action or word that may have hurt their feelings or hurt them physically. Most especially, we ask forgiveness from God. We believe that on this day, if a person asks forgiveness sincerely and repents with all his/her heart, s/he shall be cleansed from all his/her sins. It's like being born anew.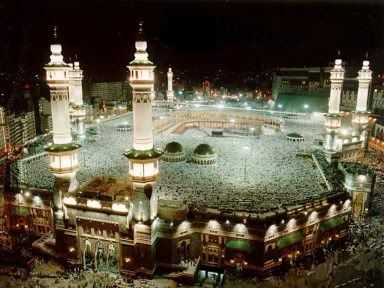 Masjidil Haraam...


Also on this day, the hajjis (pilgrims) in Mecca throw pebbles and stones to three huge rocks that represent the devil and evil spirits. These rocks are at Jabal al Rahma (Mountain of Forgiveness) on Mount Arafat just outside of Mecca. I guess the stoning is representative of the hajjis' resolve to fight evil, especially inner evil. It is said that when the world-famous boxer Muhammad Ali went to Mecca for his pilgrimage, as they were throwing stones and pebbles, he went down to the rocks and hit them with his bare hands!

This day reminds Muslims to be good, devoted Muslims. I hope and pray that I be one of those cleansed and, from here on, start to be the best Muslim I can be. Allahumma ameen!


Happy Eid, everyone! :)